Douglas Library
FIND EVERYTHING YOU'RE LOOKING FOR...
MOVIES, MEDIA & MORE
LIBRARY SERVICES & INSTRUCTION
Location
Moore Building,
Learning Commons space,
past the Tutoring Center,
Room 213M.
Hours
Monday- Friday: 8:00am - 4:00pm
Please note: The Library will be closed December 25th-January 2nd for the holidays.
Ask Us 24/7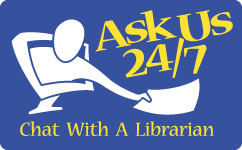 On or off-campus...get research help now!
Contacts
Please feel free to email the library any time at: douglas.library@clinton.edu
If you can't email, we ask that you call us at:
Circulation Desk
518-562-4241
Staff